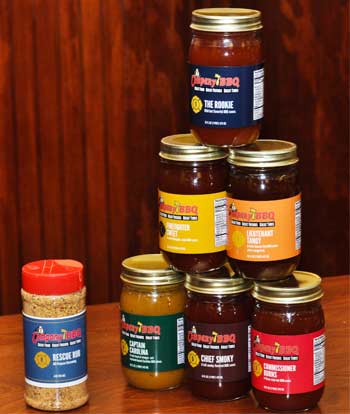 The National Barbecue Association has announced the winners of the 2012 NBBQA Awards of Excellence. The annual competition recognizes the very best barbecue products. The winning enteries were announced on February 23rd during the Awards of Excellence ceremony at the 2012 NBBQA National Conference in San Diego, California. Your Company 7 won a BEST IN THE NATION, FIRST PLACE FINISH FOR OUR CAPTAIN CAROLINA SAUCE!! OUR FIREFIGHTER SWEET SAUCE ALSO PLACED THIRD IN THE NATION!!.
This was a record year for the Awards of Excellence as winners were selected from over 350 qualified submissions from across the country. Judging was conducted under the independent direction of the Rend Lake Culinary Arts School in Ina, Illinois.
We were thrilled to place, let alone win First and Third in such a daunting and accomplished field. This was only possible because of the support you have offered us and we thank you from the bottom of our hearts. These awards rededicate us to continuing to do things the hard, slow, delicious way.....our customers deserve nothing less!