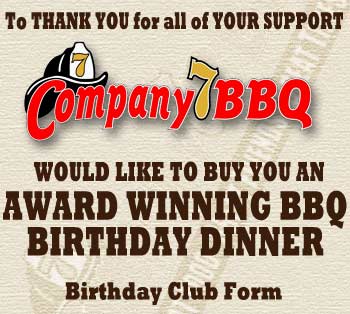 Enjoy an Award Winning BBQ Birthday Dinner Courtesy of Company 7 BBQ!!
Join our Company 7 BBQ Birthday Club by filling out our Birthday Form and we will mail your Birthday Dinner coupon automatically each year. Or while visiting us just ask your server for a Birthday Club application.
Our customers mean everything to us, so we wanted to send Special Happy Birthday Wishes. During the month of your Birthday, upon presentation of your Birthday Club Card and a picture ID showing your birth date, Company 7 will provide the over 10 year old Birthday Boy or Girl with any entrée (combos excluded), or any sandwich or dinner salad. Drinks, appetizers, additional sides, and desserts are not included in the no charge offer.