>> See Indoor Catering - See Outdoor Catering - See Catering Gallery <<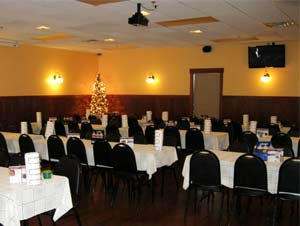 We offer a no-charge community room for all your functions; we can accommodate up to 100 persons for your business meeting, birthday party, small wedding, special party, etc. This free community room is equipped with state of the art audio visual systems and has full internet and Direct TV connectivity. We have also upgraded our Banquet Room "AV" technology to include HDMI and Bluetooth compatibility. So, if you book the party room and have an HDMI or Bluetooth device it can be shown on the TV's or projector screen and heard on the big speakers! An equipment cart is self-contained and designed to interface with essentially any customer laptop. This free banquet room is available AT NO CHARGE!! Contact Us to reserve the room. We will gladly assist you in planning specialized events (children's firefighter themed parties are a natural specialty).
See our Catering Pages or check out our Carryout/Catering Menu, and don't forget about our Catering Gallery.