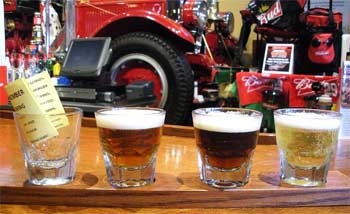 Craft Beer Sampling Paddles
What could be more fun than starting your weekend with tastings of revolving craft beers and potential new BBQ menu items? Company 7 Pitbossses enjoy a quality brew almost as much as they enjoy excellent BBQ. Working with our suppliers, each Friday & Saturday all day we will offer a tasting tray of high quality, Craft Beer products for only $4.49.
We will have brief backgrounds on each brew & will solicit your comments. You may also get glasses of any of the Craft Beers you prefer. If we find a winner, it may become a regular draft offering.
This Friday, November 24th & Saturday, November 25th all day we will feature:
Great Divide Chai Yeti Imperial Stout
New Holland TTE #3 American Pale Ale
Perrin Brewery Black Ale
Beer paddles will be available until we close or run out! The full Pub line of beers & drinks will also be available. Remember that the Craft Beers will change every Friday & Saturday.
Craft Beers Rundown for this

Friday, November 24th & Saturday, November 25th


Great Divide Chai Yeti Imperial Stout - ABV 9.5% IBU 40. Our beloved Yeti is going back to its roots with this Himalayan-inspired variation. Traditional Chai spices of cinnamon, green cardamom, black pepper, ginger, nutmeg, and vanilla blend seamlessly with Yeti's rich, roasted malt backbone for a spicy beast fit to tackle Everest.


New Holland TTE #3 - ABV 4.7% IBU 30. New Holland's American Style Pale Ale.


Perrin Black Ale - ABV 5.8% IBU 22. This Black Ale is low in gravity, clean, crisp, and flavor-filled; giving off a bread-like aroma. This beer proves that deep colors do not signify rich beers and our Black Ale is deceptively light on the tongue. A wise man once said, "You underestimate the power of the Dark Side! Give yourself to the Dark Side. It is the only way you can save your friends. Yes, your thoughts betray you" and he was right.