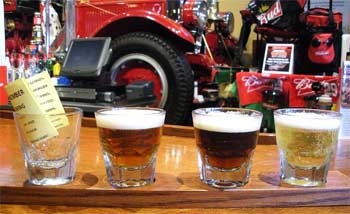 Craft Beer Sampling Paddles
What could be more fun than starting your weekend with tastings of revolving craft beers and potential new BBQ menu items? Company 7 Pitbossses enjoy a quality brew almost as much as they enjoy excellent BBQ. Working with our suppliers, each Friday & Saturday all day we will offer a tasting tray of high quality, Craft Beer products for only $4.49.
We will have brief backgrounds on each brew & will solicit your comments. You may also get glasses of any of the Craft Beers you prefer. If we find a winner, it may become a regular draft offering.
This Friday, February 23rd & Saturday, February 24th all day we will feature:
Flying Dog Tropical Belgian IPA
Great Divide Hibernation Ale
Lord Hobo Glorious Ale
Beer paddles will be available until we close or run out! The full Pub line of beers & drinks will also be available. Remember that the Craft Beers will change every Friday & Saturday.
Craft Beers Rundown for this

Friday, February 23rd & Saturday, February 24th


Flying Dog Tropical Belgian IPA - ABV 8% IBU 55. Pineapple and mango dominate with subtle passionfruit and sticky sweet, yet crisply bitter, hop notes.


Great Divide Hibernation Ale - ABV 8.7% IBU 40. Hibernation Ale has been our celebrated winter tradition since 1995. This robust, dry-hopped ale has a malty richness balanced with a complex hop profile and hearty, warming character.


Lord Hobo Glorious Ale - ABV 6.5% IBU 72. This beautifully smooth New England-Style Pale Ale pours a hazy, straw color. A double-dose of sought-after Galaxy hops delivers a silky peach-grape aroma, tropical fruit flavors, and an elegant mouth feel.