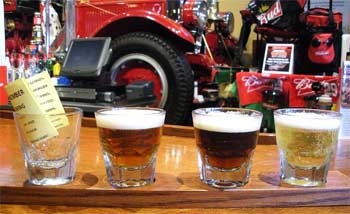 Craft Beer Sampling Paddles
What could be more fun than starting your weekend with tastings of revolving craft beers and potential new BBQ menu items? Company 7 Pitbossses enjoy a quality brew almost as much as they enjoy excellent BBQ. Working with our suppliers, each Friday & Saturday all day we will offer a tasting tray of high quality, Craft Beer products for only $4.49.
We will have brief backgrounds on each brew & will solicit your comments. You may also get glasses of any of the Craft Beers you prefer. If we find a winner, it may become a regular draft offering.
This Friday, March 2nd & Saturday, March 3rd all day we will feature:
Avery Elle's Brown Ale
Avery White Rascal Ale
Stone Tangerine Express IPA
Beer paddles will be available until we close or run out! The full Pub line of beers & drinks will also be available. Remember that the Craft Beers will change every Friday & Saturday.
Craft Beers Rundown for this

Friday, March 2nd & Saturday, March 3rd


Avery Elle's Brown Ale - ABV 5.5% IBU 20. Chocolate malt gives this beer a brown sugar maltiness with hints of vanilla and nuts, while subtle hopping gives it an overall drinkability that's second to none.


Avery White Rascal - ABV 5.6% IBU. Low An authentic Belgian style white ale, this Rascal is unfiltered and cleverly spiced with coriander and Curaçao orange peel producing a refreshingly zesty classic ale.


Stone Tangerine Express IPA - ABV 6.7% IBU 75. Imagine the tropical haze of a lazy afternoon- into-evening. Your official duties for the day have been to maybe take a hike to a secluded waterfall, perhaps grill something, definitely chill with plenty of sand between your toes…and crack a phenomenal beer to complete the experience.