Buy $30 or More Gift Card And Get "Sauced"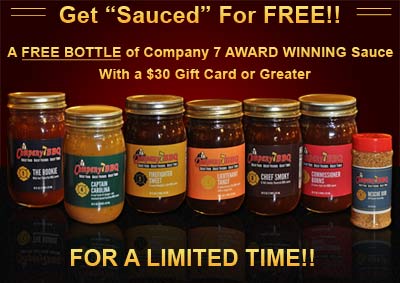 Thanksgiving, Christmas, Hanukkah, Kwanzaa, etc. is coming, and we have a gift for you. BUY A $30 OR MORE GIFT CARD AND GET SAUCED! Our gift to you, a FREE BOTTLE of Company 7 AWARD WINNING Sauce with a $30 or more gift certificate (that is about a 23% discount on a $30 gift certificate). This offer is valid from November 1st 2017 until December 31st 2017.
It's Easy To Order:
Pull up to our drive though window, we will hand you the gift card and the sauce of your choice (see below for sauce choices).
Order at your table when you are dining in, your waiter/waitress will bring you the card and sauce.
Or call us, at 937-836-2777, hit zero when the recorded answering message begins. This will bring you to a Pitboss, who will get your order info and send you the gift cards and sauces you request (small shipping charges will apply in this case and you will need to have a credit card ready when you call in).
Keep the sauce for yourself, or include it with the gift card for more impact. And of course, if you have a Company 7 BBQ Loyalty Card you earn loyalty points with each purchase to get discounts on your meals! See the details on our Loyalty Rewareds Program here.
Your Choice:
The Rookie ­ A Mild but Flavorful BBQ Sauce
Firefighter Sweet ­a Sweet Memphis Style BBQ Sauce
Lieutenant Tangy ­a Thick Kansas City Sauce w/ a Tangy Kick
Captain Carolina ­a Vinegar & Mustard Based Carolina Sauce
Chief Smoky ­a Full Smoky Flavored BBQ Sauce
Commissioner Burns ­a Texas Style Hot BBQ Sauce