Double Points all Day Monday & Double Points Tuesday 2pm to 5pm, plus you get 25 Points as a start up gift!
It is wonderful to see how often many of you return; often bringing friends and family that become repeat customers. WE WANT TO SAY THANK YOU, and we have created this loyalty program to do so! We are proud that this is one of the most generous loyalty programs in the market; our wonderful customers deserve it (just like they deserve world class, award winning BBQ).
The Preferred Loyalty Program works with the standard Company 7 gift card you may already have seen or used. Loyalty program members are given points which accumulate to reduce the cost of future purchases. Whether you go through the "Drive Through", eat in the bar, or go through our Texas Style BBQ Line. Every time you visit Company 7 BBQ and enjoy Great BBQ be sure to show your loyalty program card when paying your bill. We will swipe your card and for every dollar you spend at Company 7 BBQ you will receive 1/2 point on your card.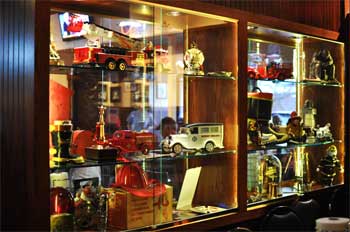 Activate and/or check balance >>> Loyalty Card Services <<<
Mon. (all day) and Tue. 2pm to 5pm, you will receive double points or a full point for every dollar you spend. Whenever you accumulate 100 points you will automatically receive $5.00 on your Loyalty card that can be used for future Company 7 purchases of any kind. You can apply the $5.00 to your next Company 7 visit, or let it accumulate for a big night out in the future! When you decide to use your accumulated rewards value for a future Company 7 purchase, the card functions just like a gift card but the gift was funded by Company 7 as our way to say thanks.
View/print Frequently asked Questions and Official Rules.