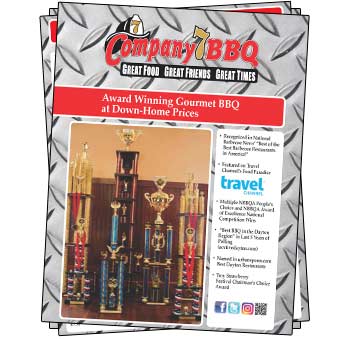 Check out our Full menu. We think you will be VERY pleased with our menu refinements.
Per your requests, our Pit Bosses have been working to develop a Company 7 level cornbread recipe. You told us you wanted traditional BBQ cornbread, but really good cornbread can be hard to produce in large quantities. It had to be exceptional cornbread if it came from Company 7; we were committed to that! It had to be full flavor, sweet, moist, non-crumbly, but full-bodied. We found this to be a daunting challenge, at least with our outcome standards. Well, we are so pleased to report we have come up with a Company 7 cornbread recipe that we think will please you as much as the rest of our offerings do. We have now discontinued our Texas Toast and have replaced it with our wonderful cornbread offering.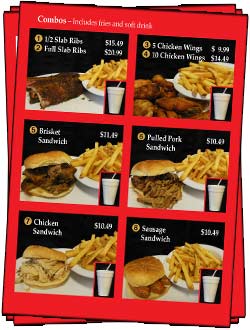 Combo specials for the drive through! We now offer discounted pricing on the most popular drive through combinations ordered.
Also, because our drive through & quick service line business has GROWN EXPONENTIALLY, we have refined the drive through and quick service line menu to offer the 95%+ of our offerings that are quick serve. We have found if we offer less than quick service options in the drive through and quick service line, it holds up the remainder of the drive through and quick serve line for the only 5% of our options which require more prep time after order. You can still get ALL our menu offerings in the dining room, or to take-out by ordering at the bar. We believe this change will dramatically speed up drive through service times at busy times of the day.
A very few lower selling items were taken off the normal menus (but you will see them as weekly special "QUE" offerings to determine if they should be re-added to the normal menu).