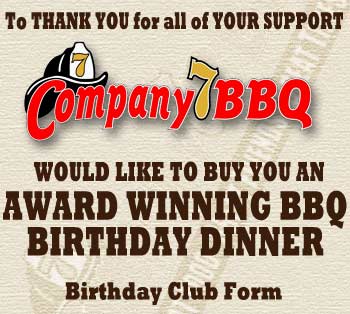 Enjoy an Award Winning BBQ Birthday Dinner Courtesy of Company 7 BBQ!!
Join our Company 7 BBQ Birthday Club by filling out our Birthday Form and we will mail your Birthday Dinner coupon automatically each year. Or while visiting us just ask your server for a Birthday Club application.
Our customers mean everything to us, so we wanted to send Special Happy Birthday Wishes. During the month of your Birthday, upon presentation of your Birthday Club Card and a picture ID showing your birth date, Company 7 will provide the over 10 year old Birthday Boy or Girl with any entrée (combos excluded), or any sandwich or dinner salad. Drinks, appetizers, additional sides, and desserts are not included in the no charge offer.
Children under 10 qualify for a free kid's meal only with Birthday dinner coupon, and we reserve the right to ask for proof of birth-date(s). We are sorry to make this distinction but some families were ordering full slab dinners for multiple babies in arms and toddlers (and taking those meals home) when getting their own free birthday dinners. Sadly, there are always some who will abuse an already great deal to the disadvantage of all of us.
Please no dinner sharing, the birthday honoree must eat the free dinner, and this offer is for in-house dining only. This offer cannot be combined with or replace any other special. We reserve the right to permanently terminate Birthday Club privileges for failure to respect offer terms or for any other reasons.
Finally, thank you for being fair to your waiter/waitress and tipping based upon what the full check tab would have been without the free birthday meal.
Your Free BBQ Birthday Dinner coupon will be mailed the last week of the month preceding your birthday month, or if submitted during your birthday month within 3 business days. In the latter case, you will have at least 30 days to use the coupon even if it is late in your Birthday Month (we will mark the card to indicated you signed up in your birth month, and date it for 30 days from the date we mail the card)!
Once you sign up for the Birthday Club, you may also get occasional text messages on our Specials (Msg. & Data rates may apply: text to 313131 to unsubscribe).