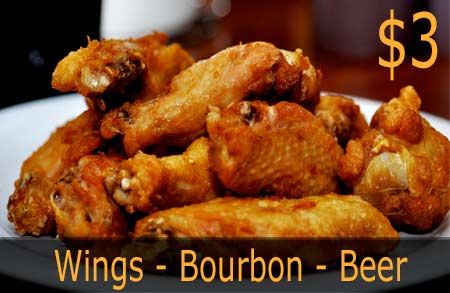 $3 Craft Beer & Bourbon Shots (In House)
Our special $3 Tuesday Bourbon & Whiskey Shot offerings (except Johnnie Walker Blue) have proven so popular that we decided to expand our $3 Tuesday offerings for a limited time. Now, you can also enjoy $3 craft beers (while each offerings lasts that night).
$3 Wings (In House Only)
We are now offering 5 of our famous smoked wings for ONLY $3!! This offer may go from trial to permanent if well received.
Get a 10% Discount
Studio Fitness/Zumba Members receive a 10% Discount on one entrée or sandwich, don't forget to bring your key fob so we can apply your discount!
→ Double Loyalty Ponts - 2pm to 5pm ←
See our great selection of On-Tap Beers, and below are some Past, Present and Future On-Tap Beers offerings.