Company 7 Takes Reservations & Offers "Call Ahead" Seating.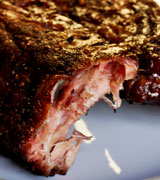 A remodeling completed 8/6/11 to add more waited tables, is now allowing Company 7 to accept reservations for parties of 6 or more, and to accept call ahead seating requests. Please dial 937-836-2777, and follow the prompts to hit 1 to place your reservation and call ahead requests. That phone is staffed during normal business hours, but in the event of multiple calls at the same time you may be asked to leave a message. We will return your call promptly. Please do not rely on having reservations/call ahead status until you hear back from us, as it is always possible there was a mechanical problem with the recording. If you do not hear back from us promptly during normal business hours, please call again to assure your status.
What is the difference between "reservations" and "call ahead seating?"
Reservations are provided for parties of 6 or more, and assure that a table is waiting for you when you arrive at a specific time. Call ahead seating puts your name on the wait list before you arrive, but while you are en-route, usually meaning that your wait time is moments or immediate seating is available upon your arrival.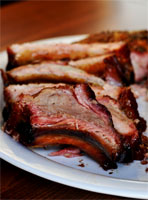 Why are reservations not available for parties smaller than 6 persons?
Six or more person seating requires, at least two tables adjacent to one another to clear at the same time. This effectively means that the first table to clear must be "saved" until an adjacent table clears that allows the 6 or more seats needed. With smaller groups, only one table is needed for seating and the most efficient way to seat the most people in a given time is to seat tables immediately to the first people in the wait line (rather than "saving" tables for people not there yet, while people already there wait). This means more people get seated more quickly, and with call ahead seating, any wait can be minimized.
What if I have a special need and a party smaller than 6 persons?
Please call in and speak to a manager. On an exception basis, we will be glad to work with you on any special needs you may have.
What are my service options at Company 7 BBQ?
You have four service options at Company 7 BBQ.
Option #1-Traditional Waited Service
During all full kitchen hours, Company 7 BBQ offers full waited table service. Due to demand, our remodeling has allowed us to increase the amount of waited tables significantly (NOW a full front parking lot does not mean there are no available waited tables, there should be plenty of parking in the connected bigger back parking lot and waited tables available). Seating at our pub bar is also full waited service with full menu offerings during full kitchen hours.
Option #2-Traditional BBQ Quick Serve Line
Monday through Saturday, from 11AM to 4PM, we also offer a quick serve line with our full menu. The quick serve line has proved very popular at these times since people often are on a tight schedule then, needing to return to work or involved in errands, etc. In the Quick Serve line, the customer walks down a line with a tray and requests the food they want. As such, the quick serve line is immediate service and the quickest way to be in and out. Quick Serve Line customers exit the line to eat in our beautiful dining room. They may seat themselves at any open table that does not bear a "reserved" sign. The center section of our pub bar is reserved exclusively for dining room customers, so that there is immediate access to draft beers, mixed drinks and all bar service (non alcoholic beverages are on the quick serve line). While the quick serve line is high capacity and can serve parties of all sizes quickly, if you have a large party you may want to alert staff as you arrive, so that we can have a table of adequate size available for your group as you exit the line.
Option#3-Drive Through Service
See Our Drive Through Menu
What if you are in a rush at times other than 11AM to 4PM (or do not want to come into the restaurant)? We have an option for you, our drive through. Remember that our Drive Through Menu is not our full menu but rather a specially designed Drive Through offering. If you would like our Full Menu option please come into our Bar or Dining Room where our full menu is available. The drive through entrance is off the back parking lot. The drive through is open during all full kitchen hours. Note: Our waited table service is usually very quick as well, but the quick serve line when available, or the drive through is even faster.
Option #4-Take Out Service
Our drive through can handle even very large orders in moments but the menu is not our full menu offering. Handling your take out order this way means it will be hot and ready at the exact moment you pull up. You are also welcome to come inside and order your take out at the pub bar, cool drinks are available while your to go order is packaged. If your to go order is for 25 people or more and/or if you have special carry out requirements or questions, please call 937-836-2777 and press 0 to speak with a manager during normal business hours.