We have some exciting new menu offerings and specials changes, beginning this Monday. We think you will really enjoy some of the new offerings, since most are responses to customer ideas and suggestions. Here is a quick recap, but words can only do so much...you have to come in soon to taste some of these great new recipes. See Our Menu!
Company 7 Signature Sandwiches
These new Signature Company 7 sandwiches offer a unique and carefully balanced taste palette where the tenderly smoked flavors play off one another. These are carefully nuanced and powerful taste profiles.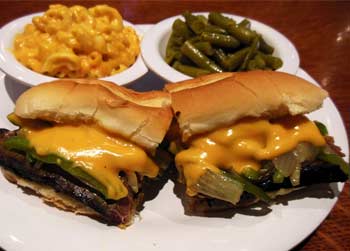 Monday Special
BBQ Hickory Smoked Philly Brisket Cheese Steak is on special on Mondays!! This amazing sandwich is a meal!! Tenderly smoked brisket, melted cheddar cheese, and caramelized onions on a hoagie bun. Served as a meal with two sides.
Mondays's Drain the Beer Lines
$2 Drafts, even high priced crafts, on our 14 long lines every Monday while they last. We clean the beer lines every Tuesday morning (our beer volume has really increased), which means draining the lines.
Rather than throw that beer out, we will make it available to you on Mondays at this low, low price. Once we run out of an offering, try another long line offering still available (or buy one of the 9 shorter line beers at regular price). Our beers rotate often so make sure to check out our Daily Beers Here to see what's available this week.